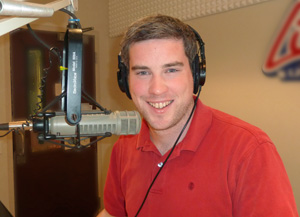 When you book Peter Naughton, you get more than "just a wedding DJ." Peter's success as a wedding DJ/MC since 2011 can be largely attributed to his foundations in broadcasting. When you book Peter, you get a professional host whose skills are built upon more than a decade of experience in live radio and TV at some of Central New York's best stations.
Peter Naughton's broadcasting career started at top-rated Utica radio stations Lite 98.7 and Big Frog 104, while halfway through earning his bachelor's degree in broadcasting at SUNY Oswego.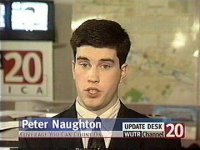 During his final semester, Peter commuted between Oswego and Utica every weekend to work as a reporter and producer for ABC affiliate WUTR-TV. Following graduation, Peter was named Lite 98.7's full-time afternoon drive host and eventually became Program Director, overseeing all aspects of the station's on-air presence. During Peter's run, Lite 98.7 consistently ranked #1 among its target audience, and often #1 or #2 overall.
In 2005, Peter moved to the larger Syracuse market, as a TV news producer for NewsChannel 9. Starting out on the two-hour morning news, Peter eventually moved to prime time, helping "Eleven @ 11:00" become Syracuse's most-watched 11pm newscast. Producers don't typically appear on-air, but Peter managed to stay behind the mic, anchoring weekends at NewsRadio 570 WSYR.
Although working in news was something Peter wanted to do since he was a teenager, and he enjoyed working with people he literally grew up watching on TV, the 6- and 7-day work weeks (including overnights and holidays) eventually inspired Peter's search for a "normal" schedule.
In 2009, Peter left broadcasting to work in the public sector. With the freedom to control his weekends, and with inspiration and support from his wife, Peter decided to launch his own DJ business in 2010. Along the way, Peter was honored to accept an invitation to rejoin the weekend lineup at Lite 98.7, and later, to help launch what would quickly become Syracuse's leading classic hits station, 95.3/103.9 The Dinosaur.
How does Peter's experience in broadcasting relate to weddings?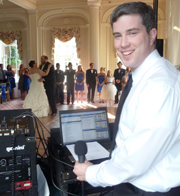 Although professionals make it look like they simply show up and magically do their thing, the reality is that the best broadcasters are the best because they put a lot of preparation into their performances.
A TV newscast might only run 30 minutes, but an entire 8-hour workday goes into preparing that newscast for air. Radio DJs might only be on-air for 4-5 hours, but many work an 8-hour (or longer) day. Much of the time off-air is spent preparing for when they're on-air. And they're not just sitting there listening to the songs; they're always preparing for what's next -- the next song, the next talk break, the next 15 minutes, the next hour.
The same applies to wedding and party DJs -- the best are the best because they put a lot of preparation into their performances. Peter Naughton always spends time discussing plans in detail with each client, making sure he understands their vision for the event. He prepares detailed, but clear, easy-to-understand timelines which are submitted to clients for approval before they are shared with other vendors (like the photographer and the venue). That way, everyone involved with the event can be on the same page and knows what's happening and when, so there are no mix-ups or missed photos.
Anything can happen at any time when you're on the air live. Breaking news can force a producer to completely rearrange a newscast minutes before air -- or even while it's airing. When I started in radio, we had one of the earliest computerized music systems, and it crashed often... so we always had to be ready to switch back to "the old way" of playing CDs at a moment's notice. In most cases, our preparedness allowed us to make that switch seamlessly, without listeners being able to detect any of the commotion happening behind the scenes.
Weddings are also prone to unpredictable changes. Although most couples rehearse their ceremony, it's impossible to rehearse the entire wedding day from start to finish. You never know when a traffic jam, bad weather, a slow buffet line or a long photo shoot might throw things off-schedule.
In his broadcasting career, Peter learned a big key to success is remaining calm, while making quick decisions and keeping the rest of the team informed as things play out. When a wedding reception timeline starts to drift off-course, some people might get all stressed-out, and that only increases the chances of things getting worse. Peter remains calm and focused, keeping things going while also planning a step ahead -- what's next? What can we change to get things back on track? Which songs can be dropped, and which ones have to stay on the list? Will any of these changes have a domino effect on other parts of the event? Do other vendors need to know? These are all things that Peter considers, but in most cases, you'll never even know the difference -- and that's the goal.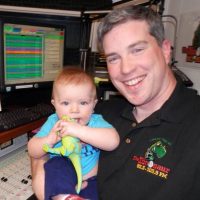 And those computer crashes at the radio station? They're the reason Peter always brings backups of his most-critical equipment -- laptops, hard drives, mixers, amplifiers -- to every event.
When you hire Peter Naughton, you don't get "just a DJ," but you get someone who is focused on making sure your special event runs smoothly and professionally -- so you can focus on having fun and making enjoyable life-long memories, not worrying about potential problems.
Disclaimer: The radio and TV stations mentioned above are for a work history only. Peter Naughton Productions does not intend to imply any kind of ongoing affiliation with or endorsement from these stations or their owners.