I have been a wedding DJ at more than 70 venues throughout Central New York, the Mohawk Valley and beyond -- even taking some road trips to the Thousand Islands, the Southern Tier and even into the Hudson Valley. Even if I haven't played at your specific venue before, that's not a problem! I am always eager to add new venues to my list and my detailed planning process ensures everything will run smoothly, even if your event would be my first at that particular venue.
Here's a map showing all the venues where I have performed. In addition to these 74 commercial venues, I have also worked several weddings at private residences, not shown on the map.
To prevent spam, the only place you'll find my email address is on this password-protected page.  The password is my last name (all lowercase) immediately followed by my zip code (13066), no spaces.
Text 315-542-2112
Call 315-542-2112
Note: Because I work during the day and due to high volumes of spam calls (extended car warranty, etc.) I usually do not answer calls from numbers I do not recognize.  If you have never called me before, please leave a voicemail and/or text me before you call.
For weddings, click here to request a quote.  For all other events, click here.  I'll respond within 48 hours (usually much sooner).
Weddings: See my Weddings page for current pricing.
Non-Weddings: For corporate events, nonprofit fundraisers or voiceover work, pricing will vary depending on the specifics of the request... let's discuss!
Yes, I usually serve as both the DJ and the emcee. I'll make the formal wedding party introductions and any other announcements needed, basically providing "crowd traffic control" to keep the event flowing smoothly, and as close as possible to the planned timeline.  I'll also help facilitate events like the cake cutting, toasts, or any other events or games you want to include in your reception.
If you need DJ services for your wedding reception from 5pm to 10pm, that's 5 hours of coverage.  If the party runs until 11, that would be 6 hours of coverage time.  (I tend to use the terms "coverage" and "performance time" interchangeably.)
Although I will arrive 1½-2½ hours early to load my equipment into your venue and set it up, I do not charge extra for this time.
Likewise, I do not charge extra for the hour or so it takes to tear everything down and remove it after the party ends.
UNLESS your venue doesn't offer ample time for me to set-up and/or teardown on my own... if I need to hire an assistant to accommodate a shorter timeframe, that will incur an additional cost.  However, this is extremely rare -- most venues now book just one wedding per space per day, there are very, very few that still book back-to-back receptions on the same day.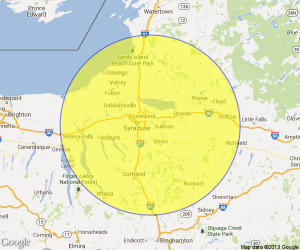 Since 2011, my weddings have taken me into the Finger Lakes, the Thousand Islands, the Adirondacks, the Southern Tier, Cooperstown and even as far as the mid-Hudson Valley.
Regular wedding DJ pricing includes travel up to one hour each way between my home in Fayetteville (near Syracuse) and your venue. This includes all venues in Utica, Rome and Oswego, even if the drive is slightly over an hour.
Venues significantly over an hour away may incur additional charges. Exact amount varies depending on the event location. I can provide that information when you request a quote, so you'll know right up-front before you make any decisions -- no "surprise" extra fees later!
Similar to my presentation style on the radio, I aim for a pleasant, upbeat approach, without going "over the top" and sounding fake or gimmicky.  But I am not the type of DJ who speaks between every single song "just because."  Once the dance floor opens, the music takes the lead -- I'll make announcements as needed, but I also respect the fact that you and your guests are there to enjoy the music and each other's company, not to hear a DJ talking every 4 minutes all night.