Out of all the vendors we worked with for our wedding, Peter was by far the most professional. We loved working with him and having him as our wedding DJ! We found a number of our vendors simply by asking family and friends. This was also the case with Peter; Rachel's uncle used to work with him many years ago and recommended Peter's DJ services to us. We were so glad to make that connection!
Prior to the wedding, we met Peter in person once - the day we signed the contract - and otherwise communicated over email and Skype. It was perfect for us since we held the wedding in Central NY but planned it from San Francisco. Peter was always quick to respond to emails any time we had questions and always incredibly helpful.
It took us a long time to settle on songs to use throughout the ceremony and reception but Peter was helpful, flexible and adaptable when working with us on a late schedule. He comes prepared with a list of song suggestions from previous clients that he can give to help with your choices for first dances, cake cutting, ceremony, etc.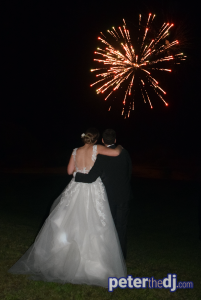 As we got to the week before the wedding we changed our mind on what we wanted for music playing during dinner. We told Peter to play songs from the 1950s to today over the course of dinner - essentially walking us through the decades. That was all the direction he needed to run with it and make it a hit.
We trusted Peter to pick songs when we couldn't; we decided a day or two before the wedding that we wanted to do the "shoe game" during the reception and delegated the song selection to him without a second thought. He nailed it - with game show music!
We had a surprise firework showing in the evening. Peter didn't know about this until we told him 10 minutes prior. We asked him to "make an announcement" for people to stay just a bit longer - without giving away the surprise - because many were starting to leave. He did a great job with the announcement and gave the attendees a hint of what was coming by playing Katy Perry's "Firework" song. 🙂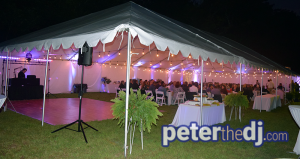 Our event was outside and the dinner and reception were held primarily inside a large tent. We used Peter's wireless uplights to help illuminate the tent. This was HUGE for us. One of our biggest worries going into this event was powering everything on generators. Knowing that Peter had *wireless* lights he could bring for us - that ran on batteries and wouldn't need the generator was a huge win for us. He let us customize the colors we used for the uplights to match the wedding colors.
Peter is extremely detailed in his planning and preparation prior to the event which we saw reflected as a seamlessly run event - with him leading the way. We'd hire him again in a heartbeat and highly recommend him to anyone who may want DJ services in the future.
Click to see Peter's blog post about this wedding, with more photos, song choices and more!