Every wedding is unique in some way, but Rachel and Kevin's wedding was especially unique. Their ceremony and reception took place atop a hill overlooking her parents' farm. Hosting a wedding at a private residence is a massive undertaking, but Rachel and Kevin made it look so easy! I've got details, photos, song selections and more in today's blog post.
The festivities took place in the Town of Litchfield, a short drive southeast of Utica, just over the Herkimer County line. The hilltop site provided a commanding view of other nearby farm fields and forests.
Lots of Planning
Planning for this wedding started at least 10 months prior -- the couple first contacted me last November. I'd bet some aspects of the planning started even sooner! The wedding and reception took place at the top of a hill behind the farmhouse and barn, on land which needed to be graded and seeded with grass so it would be suitable for the festivities. Rachel's family also built a driveway so various heavy-duty vehicles including the tent delivery truck, bathroom trailer, shuttle bus and more could make it up to the top of the hill.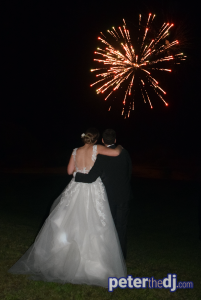 Several generators were rented to keep everything running for the 8-hour event. At first, I'll admit I was a bit concerned about generator noise interfering with things, especially the ceremony. But thanks to the way everything was placed, and because we were out in the country (no buildings to create echoes), the generators were out-of-sight and the noise wasn't really a factor at all.
After the tents, trailers and generators, there was ample room remaining for a ceremony area, framed by two giant trees. Rows of blanket-covered hay bales provided chapel-like seating. Sometime between the ceremony and dinner, family members moved some of those haybales closer to a fire pit. As night fell and temperatures fell lower than they had in months, the bonfire proved a popular hangout for conversations and warming up.
Although Rachel and Kevin were very detailed and open with their planning, they managed to keep one big secret from a lot of people, this Wedding DJ included. Shortly after dinner made way for dancing, they surprised everyone with a fireworks display! Luckily, it all happened beyond my end of the tent and the newlyweds were close-by when it started... providing a wonderful photo opportunity of the two of them watching. You'll see it below in the photos. First, here are the songs Rachel and Kevin selected for the key moments of their special day:
Rachel and Kevin's Key Song Selections
Ceremony
Processional: Paper Kites / Bloom
Grand entrance: Landon Pigg / Falling in Love in a Coffee Shop (custom-edited by request, to omit "coffee shop")
Recessional: BØRNS - Electric Love
Reception
Newlyweds' intros: Darkness / I Believe in a Thing Called Love
Cake Cutting: Queen / You're My Best Friend
First Dance: Villagers / The Wonder of You
Father / Bride Dance: Beatles / In My Life
Groom / Mother Dance: Van Morrison / Days Like This
Last Dance of the Night: Ed Sheeran / Thinking Out Loud
Photo Album Highlights
This was one of the first events where my newly-expanded inventory of wireless uplighting units came in handy. At first, the plan was to place one light every 10 feet around the circumference of the main tent. When it was decided that only two sides of the tent would be walled, we decided not to put any along the open sides, but move them elsewhere.
Some lights were placed between the dinner tables, to provide more color in the center of the tent. Two lights brightened up the trees where the ceremony took place. And two other lights were placed under the hors d'ouvres display table, creating a glowing effect under the full-length tablecloth. Rachel's requests for regency purple and white looked spectacular, especially after dusk.
Click any photo to see larger version
View/tag/like/share these photos -- and 30 more -- on Facebook
See More Event Photos
Thanks again to Rachel and Kevin for choosing me as your wedding DJ! I had a blast helping you put together this celebration, and you brought a wonderful group of relatives and friends to help celebrate. I also want to thank Rachel's uncle Doug, a co-worker from my past life in the TV news business. He shared my name when he heard Rachel and Kevin were looking for a DJ, and I'm always thankful for referrals!