As the DJ, there's plenty of things I can do to help encourage your wedding guests to fill the dance floor. But there are some "extras" you can bring, to help boost your reception's energy level. In this edition of Peter's Pointers, get inspired by ideas from some of my previous couples.
Flip-Flops: Practical and appreciated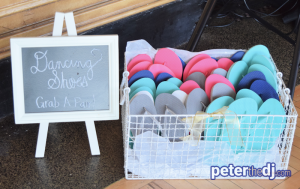 You see it at almost every wedding -- ladies who eventually go barefoot because they've had it with their high heels, but they want to keep on dancing! Now, a hard dance floor can be stressful to bare feet as well -- and it can even become dangerous if someone spills a drink or drops a glass.
Enter flip-flops: inexpensive safety and comfort for your heel-abandoning guests!
That's right, you don't need to spend a bundle -- they only need to last through the reception.  Even the most basic sandals can look appealing with only modest presentation.  You'll need a variety of sizes, but Amazon offers several "wholesale" flip-flop packages with an assortment of sizes (and some with different colors) so you don't have to handpick every single pair. Just decide which style(s) you like and how many you need.
Sunglasses: For that classic, cool look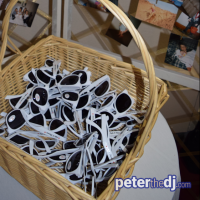 Some couples like the idea of a wedding reception album full of cool-looking, sunglasses-wearing guests. If your wedding is outside during the daytime, guests might appreciate them just as much as flip-flops on the dance floor! But if you're indoors at night and your venue turns the lights down too low, it might be hard for guests to see where they're going.
In other words, sunglasses may not be a great idea for every wedding reception. It's up to you.
These sunglasses from a 2016 wedding were personalized with the couple's names and wedding date on the sides.  They a hit during the reception, and they also doubled as a nice take-home favor to remember the evening.
Glow Necklaces: For the club/rave vibe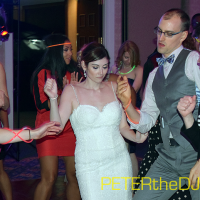 Any venue can look like a dance club when the house lights go down, and the DJ's lights go up (especially with uplighting). But you can really go the extra mile for that club or rave vibe by providing glow necklaces for your guests.
For the wedding pictured here, we planned a time to hand out the necklaces. The couple ordered them and placed in the ballroom prior to my arrival. I kept the box behind the DJ booth until the appointed time. When I made the announcement and held up handfuls of necklaces, people swarmed to get one... they were all gone within minutes and most people wore them for the rest of the evening.
Of course, it depends on who will be in attendance: you need a decent number of guests who would be into the idea. Once that initial group gets it going, the rest of the crowd will soon follow.  But older guests tend to be more hesitant about these, so if they make up the majority of your guest list, you might want to order a lower quantity or scroll down to the next idea on this list.
Hawaiian Leis: An alternative to glow necklaces
If your wedding reception has a tropical theme -- or you just need to "tone it down" a few notches from glow necklaces -- novelty leis can help get everyone looking and feeling festive. If grandma and grandpa wouldn't be into wearing glow necklaces, chances are they'd be OK with sporting a lei, especially if they've ever enjoyed a trip to the islands themselves.
Bubbles: Fun for all ages... and effective "paparazzi prevention"
Tiny bottles of bubble soap are a common sight, especially for outdoor receptions. The old tradition of tossing rice or other food can messy, and possibly harmful to wildlife. Bubbles make for great photos, and then they simply disappear -- nothing to pick out of your dress or tux later, no litter for anyone to pick-up off the ground!
You can place a bottle on each seat, or have them all on a table, with a sign directing guests to grab one on their way in. Worried that guests might not catch on? Some couples use ribbon to attach the bubble bottles to their ceremony programs or reception seating cards (just punch a hole in the corner of the program) to make it blatantly obvious that everyone is supposed to take a bottle.
If you want your ceremony "exit" photos to show you walking through lots of bubbles, make advance plans with your photographer to be in place, and to have the officiant make an announcement at the end of the ceremony. They can prompt everyone, especially those closest to the aisle, to get their bubbles out and start blowing toward the aisle as you walk by. You can also include a note in the program, allowing people to be prepared even sooner than the officiant's announcement.
Another bonus: if guests are holding bubble bottles/wands, they won't be holding their cameras! Your professional photos will show your guest's happy faces, rather than what might otherwise look like a "cell phone paparazzi" group.
Endless Possibilities
Check out my Pinterest boards for more wedding ideas... or if you have any of your own, share them by posting a comment below!