Bianca and Garrett's wedding will definitely stick out in my memory! The ceremony was unique and we had a great dance floor crowd during the reception. But... admittedly, I was afraid it was going to be difficult to get people dancing. I'll explain in today's blog post. And as always, photos and the couple's music choices for those of you seeking inspiration for your own wedding planning!
Everything took place in Garrett's parents' backyard in Hamilton. Although their home is right in the village, it's surrounded on all sides by trees, so it still felt very much like a "private" venue.
A gazebo near the back of the yard served as the backdrop for the couple's Quaker ceremony. Although I've been a wedding DJ for nearly a decade, this was the first Quaker ceremony I've ever witnessed, and there were some interesting differences from most other styles of wedding ceremonies.
At one point in the ceremony, several minutes of silent reflection were followed by an invitation for guests to provide "brief messages of love, care, advice, and reflection directed towards the couple." Guests weren't required to speak, but several did, each expressing a genuine happiness for the couple and the new chapter in their lives.
In addition to the ceremony, the photos above show my DJ setup underneath the large party tent, which covered the dance floor, the dinner tables and two gourmet taco stations. I also showed how I connected my DJ station to the power outlets in the shed, via the "roof" of the tent, so the cord wouldn't be on the ground, where it could have been a tripping hazard. (And you'll see how I kept cool on this hot summer day.)
Bianca and Garrett's Key Song Choices
Ceremony
Processional: Piano Guys / instrumental cover of Taylor Swift's Begin Again -- custom-edited so that a large portion of the first part of the song would seamlessly loop for as long as needed for the wedding party to make their way down the aisle.
Grand Entrance: Same song, but custom-edited to begin at a specific part of the song where the intensity builds up. When it was time for Bianca to walk down the aisle, I cross-faded from the first piece to this one.
Recessional: Hall and Oates / You Make My Dreams Come true
Reception
Wedding party intros: Justin Timberlake / Can't Stop the Feeling
First Dance: James Blunt / Bonfire Heart
Father / Bride Dance: Michael Buble / Forever Now
Groom / Mother Dance: John Denver / Garden Song
Last Dance of the Night: Frank Sinatra / New York, New York
Photo Album Highlights
At the top of the post, I mentioned how I was concerned it might be difficult to get people dancing... that's because July 20th happened to fall within that stretch of really hot, humid weather that just seemed to plop itself down over much of the northeastern U.S. for nearly a week! (You'll see how I kept myself cool with a big fan behind the DJ table!)
I was really worried that people just wouldn't feel like dancing. But luckily, temperatures started to fall just as dinner was ending. It wasn't a big drop, but it was enough! As always, this is just a select handful of my photos from the dance floor -- as well as some of the decor. I have even more photos on my Facebook page! Scroll down for a direct link to the album.
Click any photo to see larger version
Here's the 5-star review Bianca posted for me on WeddingWire: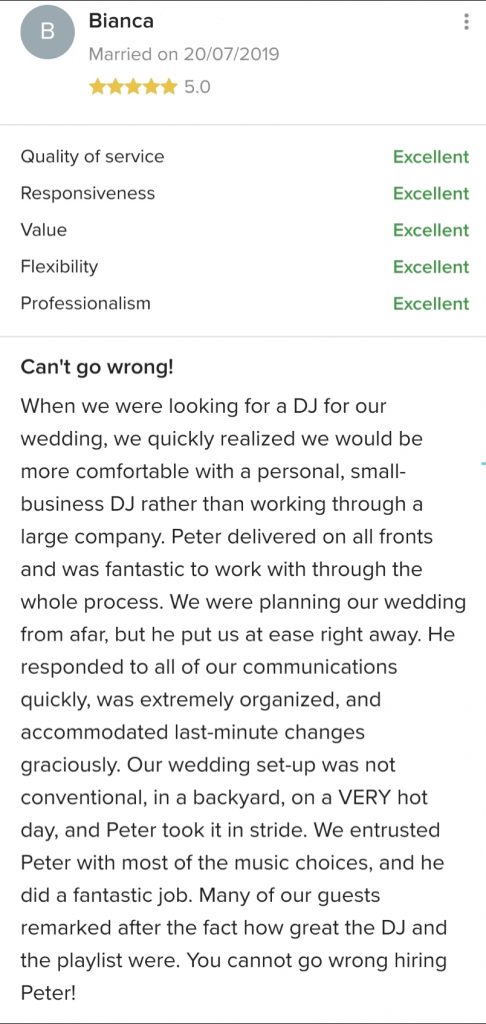 My thanks again to Bianca and Garrett for choosing me as your wedding DJ! It was a pleasure getting to know you and having the honor of being involved in your wedding day. A wonderful celebration with an outstanding crowd, and I wish you both nothing but the best as you embark on this next chapter in your relationship!