Breathtaking! If I had to describe the Grand Ballroom on the 10th floor of the Marriott Syracuse Downtown in one word, that would be it. Even moreso with uplighting, and an awesome dance floor crowd! Liz and Brian also invited a very special guest beloved by Syracuse University alumni and fans alike. Details, photos and more coming up... keep reading!
The Grand Ballroom is like no other venue in Central New York, in more ways than one. I usually begin these blog posts with some the technical insight into each event, so we'll begin there.
The rectangular ballroom is so wide and tall, my usual 2-speaker setup would not be sufficient. In order to power 4 speakers, I brought along both of my sound systems. Each powers 2 speakers, and I run a cable up to the balcony, over the entryway, and back down. This connects both systems without any need to run cable on the floor.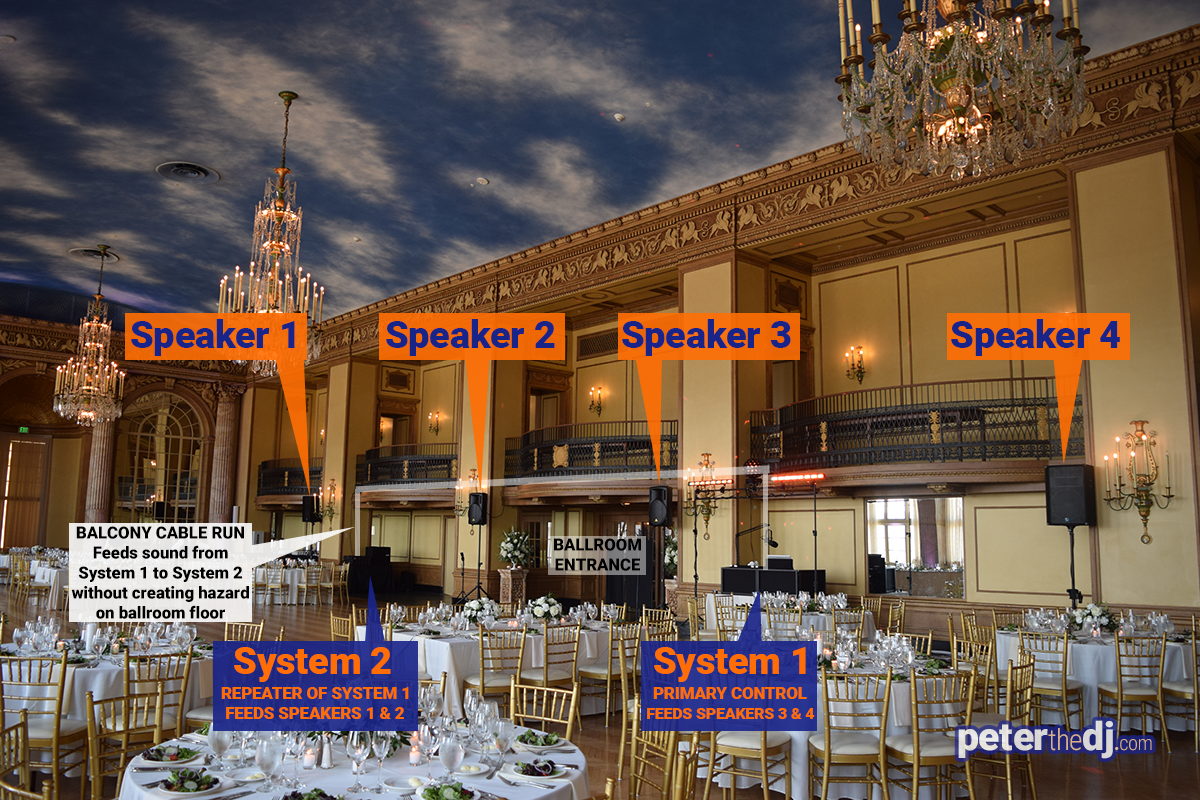 For this wedding, Liz and Brian also ordered uplighting -- in fact, it was this wedding that inspired me to double my uplighting inventory from 12 units to 24. You just can't do this room proper justice with only 12 uplights! Lights were placed in the center of all 10 of the large windows facing to the south, along with every column along the south and west walls, the inner columns on the east side of the room, with one light left to hit the huge floor-to-ceiling mirror on the east side of the room.
Liz and Brian's Key Song Choices
Parents' intros: Hall & Oates / You Makes My Dreams Come True
Wedding party intros: OMI / Cheerleader
Newlyweds' intros: Beyonce & Jay-Z / Crazy in Love
First Dance: James Arthur / Say You Won't Let Go
Father / Bride Dance: Frank Sinatra / The Way You Look Tonight
Groom / Mother Dance: LeeAnn Rimes & Delta Goodrem / For Good (from "Wicked" soundtrack) - this was selected by Brian's mother and was kept a "top secret surprise" until it played at the reception!
Cake Cutting: Stevie Wonder / Signed, Sealed Delivered
Last Dance of the Night for Everyone: Elton John / Tiny Dancer
Last Dance of the Night for Newlyweds: Brett Eldridge / Mean to Me
After the parents and the wedding party were announced, the newlyweds are usually next. Not this time! As a surprise to their guests -- which included many fellow Syracuse University alumni -- Liz and Brian arranged for a special appearance from SU mascot Otto the Orange! Otto sprinted into the ballroom to get the crowd hyped up and ready to cheer loud and proud for Liz and Brian's entrance.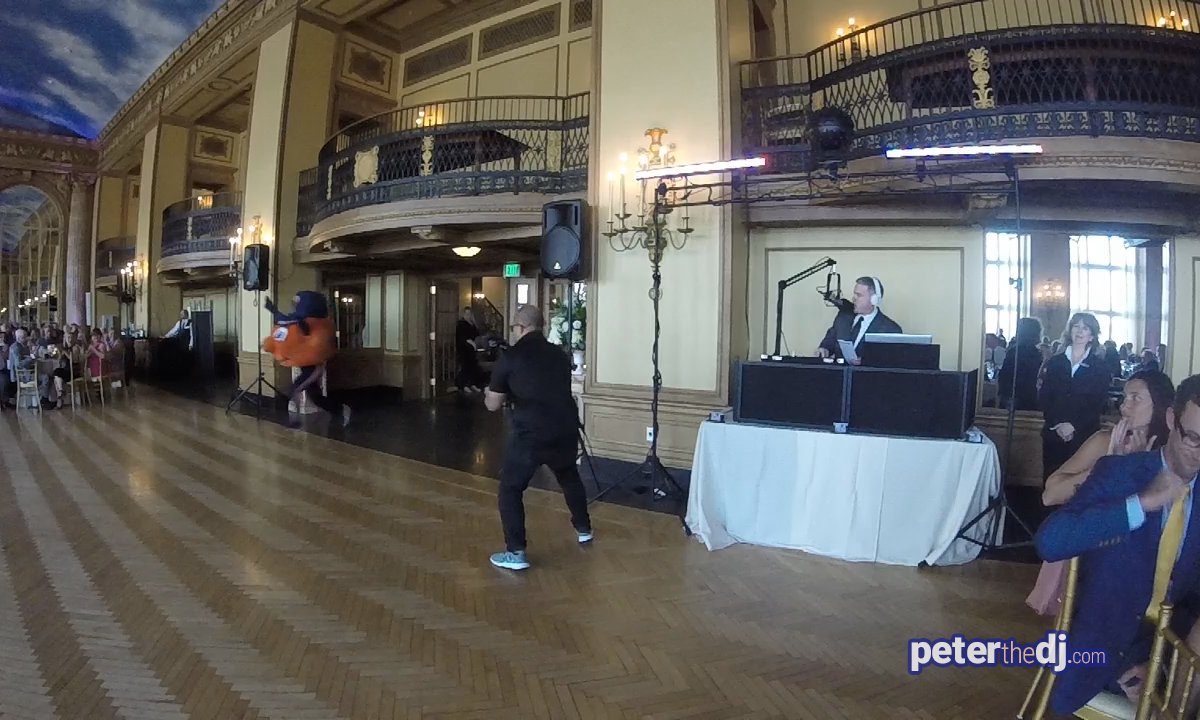 Photo Album Highlights
Although this wasn't my first wedding in the Grand Ballroom, it was my first time with uplighting... and I was pleased to see how wonderful it looked, especially after dark. At Liz and Brian's direction, we started out with white uplighting, then after dinner, we changed over to purple.
As always, this is just a select handful of my photos -- I have even more photos on my Facebook page! Scroll down for a direct link to the album.
Click any photo to see larger version
A spectacular evening all around! My thanks again to Liz and Brian for choosing me as their wedding DJ! It was great getting to know you through our planning over the past 16 months, and I wish you all the best for a long, happy, love-filled marriage!
I also want to give thanks again to one of my previous wedding couples, Erica and Grant, for recommending me to Liz and Brian. In fact, Grant was one of Brian's groomsmen. And much to my surprise, I was greeted by another couple, Sarah and Ben, who recently booked me for their wedding in 2020!