I know "time flies when you're having fun" is cliché, but that's exactly how I felt at Erica and Grant's wedding reception at the Genesee Grande Hotel in Syracuse last weekend.  My second wedding of 2017 also featured the début of some brand new equipment I purchased over the winter.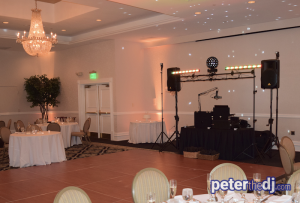 Although some of the new gear is "behind the scenes" stuff, the notable addition is a new dance floor light at the center of my overhead lighting truss.  It's accompanied by a brand new lighting controller which lets me select more colors, movement and other effects than my previous lighting controller.  Gone are some outdated lights which did a great job, but aren't compatible with the new stuff.
As for time flying, I can credit the bride and groom for a host of excellent song requests submitted in advance -- including a general request to play lots of 90s music, so I did roughly an entire hour of those.  The dance floor was hopping from start to finish.  And once nice perk about hosting your reception at a hotel -- most (the Genesee Grande included) have a separate bar right on the premises.  That means guests looking for the afterparty needed only take a short walk down the hall to the hotel's 1060 Bar.
Key Wedding Song Selections
Wedding Party Intros:

Chvrches - The mother we share
Notorious BIG / Big Poppa
Marky Mark & Funky Bunch / Good Vibrations

Bride and Groom Entrance: Justin Timberlake / Suit and Tie
First Dance: Justin Timberlake / Mirrors (radio version)
Bride / Father Dance: Stevie Wonder / Isn't She Lovely
Groom / Mother Dance: Rod Stewart / Forever Young
Cake Cutting: Bob Marley and The Wailers / Is This Love
Last Dance of the Night for Everyone: John Legend / All of Me
If you know these songs well, you might be thinking the songs selected for the parent dances are rather lengthy.  At the couple's request, I edited both songs in advance.  "Isn't She Lovely" ran just less than 2½ minutes, but retained the original "cold" ending, so it didn't sound edited.  Similar editing magic shaved nearly a full minute from "Forever Young."
Photo Gallery
Was a pleasure to work once again with Erica Hasenjager Photography.  She did a great job with the ceremony, post-ceremony and part of the reception, but she was only contracted until 9:00, so I tried to take more photos than usual during the last two hours of the reception. Here are just some of my shots -- click the blue button below to see the entire album (and tag/share/like) on Facebook!
Click any photo below for a larger version.
Click here to see 10 more & tag/like/share on Facebook!
More Event Photos
As with every couple, I am thankful to Erica and Grant for choosing me as their wedding DJ!  Had a blast working with them, and loved to see them and their guests having so much fun.  I wish them all the best for many years of happiness together.  Also great to play the Genesee Grande again -- hopefully it'll be less than another three years before my next visit!  If you've found my blog because you're planning your own wedding there... let's talk!