Although my 2016 wedding season has ended, I continue to catch up with the memories here on my blog.  We had a great time at Caitlin and Martin's wedding ceremony and reception, split between two different locations in Cazenovia, a short drive southeast of Syracuse.  The outdoor ceremony narrowly dodged passing rain showers and dance floor was packed for the entire reception!
Caitlin and Martin's wedding took place at the very top of the beautiful Stone Quarry Hill Art Park, about 5 minutes outside of the village proper.  Guests headed back into the village for the reception at the historic Lincklaen House.
If you're a longtime reader of this blog, you might think you're experiencing déjà vu (or you might suspect I'm starting to recycle blog posts).  To use one more French phrase: au contraire!  (If you actually remembered last year, my thanks to you for keeping up with the blog!  If not, that's OK -- here's a link.)
Caitlin and Martin had a huge party tent for their guests, which was arranged the week-of the wedding when rain started to appear in the forecast.  Guest seating took up the entire tent, so I still brought along my own tent (pictured) as originally planned.  That paid-off because there were a few brief, light sprinkles. It also allowed me to run my speaker cable along the tent's cross-bracing, which is neater and safer than running it along the ground.
Similar to Laura and Daniel's wedding day last year, my set-up for Caitlin and Martin started at the Lincklaen House.  After most of the set-up there was complete, I headed up to the art park to set-up for the ceremony and change into my suit (requested by the couple instead of my usual tux).  Once the ceremony was over, the equipment there was quickly packed-up and we headed back to the Lincklaen House.
Key Song Selections
Before we get to the photos, here are the songs Caitlin and Martin selected for the key moments of their special day:
Ceremony Processional: Vitamin String Quartet / Stubborn Love
Ceremony Bridal Entrance: Vitamin String Quartet / Maybe I'm Amazed
Ceremony Recessional: Edward Sharpe and the Magnetic Zeros / Home
Wedding Party Intros: The 1975 / The Sound
First Dance: Andrew McMahon In The Wilderness / Cecilia And The Satellite
Bride / Father Dance: Beatles / In My Life
Groom / Mother Dance: Van Morrison / Days Like This
Cake Cutting: Jason Mraz / I'm Yours
Bouquet Toss: Beyonce / Single Ladies
Last Dance of the Night for Everyone: Smashing Pumpkins / Tonight Tonight
Photo Gallery
When I said this wedding was a lot of fun, you don't have to take my word for it -- check out the photos below!  And further down, click the big blue button for even more photos on Facebook or keep scrolling to the 5-star review bride Caitlin posted on WeddingWire.
Click any photo below for a larger version.
Click here to see more & tag/like/share on Facebook!
More Event Photos
After the reception wrapped up, guests didn't need to travel far for the afterparty -- it was one flight downstairs to the Lincklaen House's casual pub, The Seven Stone Steps, where pizzas were provided (and quickly disappeared) as a late-night snack.
Here's the 5-star review Caitlin posted on WeddingWire afterward:
Peter the DJ totally rocked!!! From the beginning Peter was professional and very knowledgeable about how to run a top notch wedding! He showed up early to set up his equipment at our ceremony site; and our reception venue. Was prompt with returning my emails and anxious questions. In fact Peter helped me chill out because he had everything under control and made awesome suggestions and helped with the planning process. Peter was an absolute pleasure to work with! He also had some really awesome up-lighting and dance lighting that made the dance floor a fun and popping place! Not to mention he was able to handle and field all the rowdy guests and did it with professionalism and ease! I want to relive this whole weekend again! Loved every minute! Do yourself a favor and book Peter as your dj!!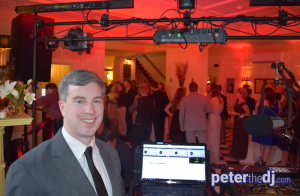 Caitlin and Martin are such a great couple and I really enjoyed being a part of their wedding day.  I'm grateful to them for selecting me as their DJ, and to all the other vendors involved for their cooperation!  Being able to handle the ceremony and reception at two different locations wouldn't be possible without the Lincklaen House allowing me to set-up super-early for the reception, as there wouldn't have been enough time to set-up after the ceremony.  Thanks also to the Stone Quarry Hill Art Park for supplying the additional extension cords needed to get power out to the ceremony area.
Will another couple make this unique two-venue run go for a third year in a row?  I'm guessing the chances are low, but hey, you never know!  There are still plenty of dates available for 2017 and I'd be thrilled to see the "Stone Quarry / Lincklaen House combo" happen again!