Had a great time helping Kara and Jordan celebrate their wedding at downtown Syracuse's SKY Armory this past weekend.  The entire event took place right there -- starting with the ceremony on the ground floor, then the reception on the third floor.  An awesome party crowd of relatives and friends kept the dance floor hopping all night!When couples hold their ceremony at SKY Armory, it's often on the first floor, which is set-up with chapel-style seating.  Although Kara and Jordan hired a string quartet to provide the music for the ceremony and the cocktail hour, I was asked to provide a sound system to mic-up the officiant, Jordan's father.
Given the room's size and shape, the best place for that downstairs set-up was actually behind the large, floor-to-ceiling curtains which offer a decorative backdrop (and offer some privacy) between the ceremony altar space and the large windows which face South Salina Street.
My primary system was ready to go up on the 3rd floor, where the reception was held.  After the string quartet wrapped up their cocktail hour performance, I took over with wedding party intros.  The first dance followed, with a wireless mic providing coverage for toasts and blessing leading into dinner.
One of my favorite things about SKY Armory (aside from their professionalism and top-notch organizational skills) is the quick dinner service.  When we announce it's time for dinner, a group of servers streams out of the kitchen, delivering salads to every guest within 5 minutes.  Not that we want to rush anyone through dinner, but it's nice that everyone is served so quickly... because that means everyone's done eating and ready to get dancing at just about the same time.  It's things like that which really help keep things on schedule and maximize the amount of available dance floor time.
Kara and Jordan's Key Song Selections
Wedding party intros: Bruno Mars / Uptown Funk
Newlyweds' intros: American Authors / Best Day of My Life
First Dance: Christina Perri / A Thousand Years
Father / Bride Dance: Michael Bolton / Daddy's Little Girl
Groom / Mother Dance: The Band Perry / Mother Like Mine
Cake Cutting: Maroon 5 / Sugar
Bouquet Toss: Beyoncé / Single Ladies
Garter Toss: Warrant / Cherry Pie
Toss Winners replaced garter to: Nelly / Hot in Herre
Last Dance of the Night for everyone: Ed Sheeran / Perfect
Last Dance of the Night for Kara and Jordan: Dirty Heads / Your Love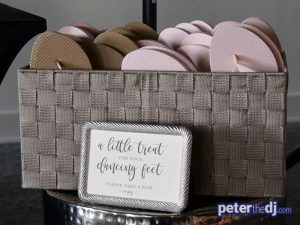 Once the dance floor opened, the crowd was hopping all night!  Two things that really helped keep the momentum going: either Kara, Jordan or both were almost always on the dance floor themselves.  People tend to flock to the newlyweds, so the more a couple dances, the more everyone else dances.
Second, they provided flip-flops for the ladies!  Two cases, right by the dance floor -- one of the top suggestions from my "Peter's Pointers for Wedding Planning" blog post about items to enhance a wedding reception.  Plenty of takers were ready to change-in their heels for comfy flip-flops, allowing them to keep dancing in comfort, right up until the final dance of the night.
Photo Album Highlights
This was such a great crowd, I wound up with dozens of photos!  Here's a selected sampling... scroll down to the bottom and click the blue button to see the entire album (all of these photos plus 30 more) on my DJ Peter Naughton Facebook Page!
Click any photo to see larger version
View  / tag / like / share these photos -- and 30 more -- on Facebook
See More Event Photos
Those are just some quick snaps I took as I had a moment here and there to pick up the camera -- but I'm not a professional photographer.  For even better shots, I'll defer to Nicolette Media... Joe and Kiara did a wonderful job with Kara and Jordan's engagement session, so I'm looking forward to their wedding day shots!
Thanks again to Kara and Jordan for choosing me as your wedding DJ!