When you've got one of the hottest summers in recent memory, the only way to improve on a day at the beach... is to have a wedding there!  Well, OK, it wasn't planned in that exact order, but everyone still had a blast celebrating Rose and Ken's wedding at Lake Delta State Park near Rome on July 23. 
For this event, I was requested to provide sound for both the ceremony and the reception, as both took place right at the same location.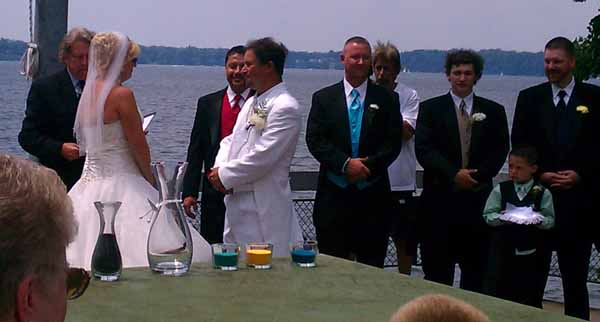 The ceremony itself took place at The Overlook, which provided a fantastic backdrop for the wedding.  That was followed by the reception at one of the park's reserved picnic shelters.  The only snag: while the shelters are wired for electricity, The Overlook is not.  While a portable generator or a running vehicle could have provided power for a full sound system, the couple understandably didn't want a running motor throughout the ceremony.  Instead, I pre-recorded the welcome announcement and put the processional and recessional songs on a custom CD, which I played from a battery-powered boombox.  Although this meant we didn't have microphones for the ceremony, the trade-off is that I was able to have my full sound system already assembled at the reception site in advance, so there wouldn't be any "downtime" for moving the equipment.
Click any of the remaining photos on this page to see a larger version.
At left, is my setup underneath the picnic shelter before the guests arrived, and at right, the newlyweds are joined by friends and family on the dance floor.  While my typical wedding attire includes a formal button-down shirt and tie, the couple had informed me that this would be a more casual setting, and I was welcome to "dress down" a bit.
The bride and some of her closest friends and relatives formed an impromptu kick line for "New York, New York."
For years, these guys have made a tradition of singing Meatloaf's "Paradise by the Dashboard Light" during every family gathering they hold, and this was no exception.  Two microphones were set up -- one for the ladies and one for the guys.
Even though it was a pretty steamy day (we reached a high temperature of 90º and a high humidity of 87%), the crowd couldn't resist the dance floor!  At first, I wasn't quite sure the dance lights would be useful due to the fact we would be outdoors, but I brought them anyway -- and as it turned out, the picnic shelter and the nearby trees created enough shade that the lights really popped on the dance floor.