Now that winter is (hopefully) finished, my calendar is pretty busy over the next several weeks!  Following the success of an open house in December, I was honored to be asked back to the Children's Consortium in Syracuse to DJ their Family Fun Fair.  Although it was chilly for late April, it was sunny and dry, and we had plenty of fun!
Click on any image to see a larger version.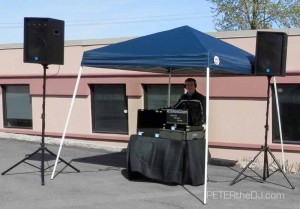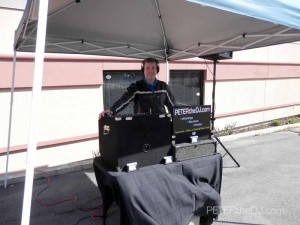 Left: Set-up is complete about 15 minutes before the event is scheduled to begin!  My "full" setup usually includes dance lights, but outdoors on a sunny day, the lights wouldn't have been visible, so they were not used.
Right:  Although it's a chilly day, direct sunlight can still damage the equipment, so that's why the tent was set-up.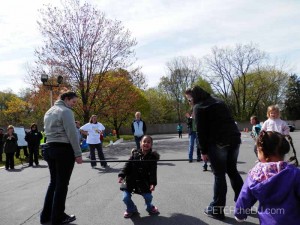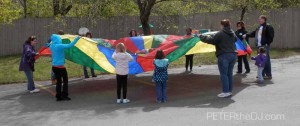 Left: Time for the Limbo!
Right: Parachute games!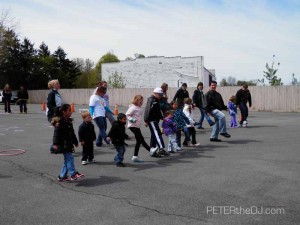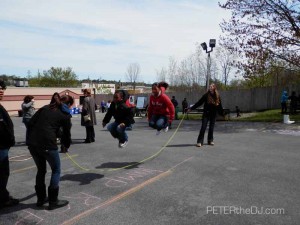 Left: Hokey pokey time!
Right: Jumping rope!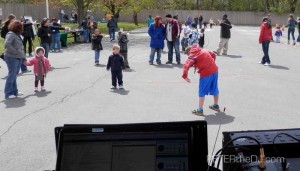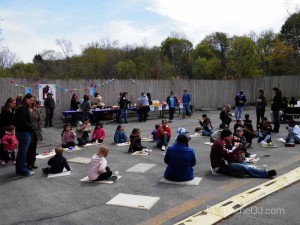 Left: Kevin, in the red sweatshirt and blue shorts, shows off his dance moves... and it was his birthday!
Right:  After a morning of dancing, games, face-painting and other fun, it's time for lunch... free hot dogs, chips and milk for everyone thanks to generous donations to the Children's Consortium!
Your choice of DJ can make or break your event... contact Peter now for date availability!