A brisk fall day on the farm provided the setting for Amber and Nate's wedding day.  The newlyweds and their guests will have memories for years to come, between the dance floor, the tag-team toast and Boris the Trebuchet's pumpkin launching abilities!  Details, photos, song choices and more from Our Farm are in today's blog post.
Amber and Nate got married at Our Farm, owned by the Golub family.  The venue has a Manlius mailing address (important for Google or GPS searches), but is actually located just over the Madison County line in the Town of Cazenovia.  It was my first wedding DJ booking at Our Farm since the owners' daughter's wedding in 2014.  Just as my equipment has continually improved since then (including my camera, as you'll see below), so has the venue.  Back in 2014, the barn's floor was dirt covered with fine gravel, much like the surrounding outdoor walkways.  In 2018, there's a full hardwood floor, which you'll see in some of the photos below.  Owner Jimmy Golub says even more improvements are planned for next year.
Perfect Fall Day for a Wedding
Outside, one of the main attractions is Golub's own creation, Boris the Trebuchet, known for its fantastic pumpkin launching abilities. I don't usually have a "pumpkin launch" line on my wedding DJ timelines, but it's a staple at Our Farm.  Guests watch in awe as the trebuchet's 1200-pound counterweight launched a 20-pound pumpkin 200+ feet into the air.  After seconds of silent hang time, guests cheer as the gourd smashes into the ground.  Pictures can't do it justice, so check the farm's public hours (or book your wedding there!) and see it for yourself!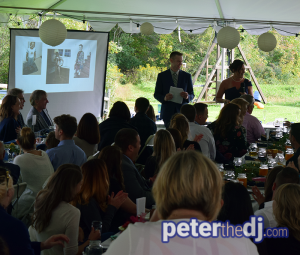 After a beautiful ceremony outside, guests enjoyed cocktail hour with an open bar outside the barn and appetizers inside.  The introductions and first dance took place inside.  To save time, Amber and Nate danced with their parents at the same time, rather than doing separate bride/father and groom/mother dances.
Then, it was time to head out to the large party tent, where the dinner seating was located.  That's where the man of honor (Amber's brother) and best woman (Nate's sister) teamed-up for a toast featuring a slideshow of memorable photos from the newlyweds' own childhoods.  After dinner, the aforementioned pumpkin launch led to dessert (a variety of cakes from Syracuse's Biscotti Café), and then we opened the floor for dancing!
Amber and Nate's Key Song Selections
Wedding party intros: Nina Simone / To Love Somebody
First Dance: Neil Young / Harvest Moon
Father / Bride and Groom / Mother Dance: Carla Bruni / Stand By Your Man
Dollar Dance: Adele / To Make You Feel My Love
That's probably one of the shortest lists I've shared. Combining parent dances is one way to increase your available dance floor time. We also skipped some formalities, like cake cutting and bouquet toss.
Photo Album Highlights
In addition to the kick line at the end, there was also an impromptu conga line!  Here are just some of the photos I snapped during the reception -- scroll down for a link to see the full album on my Facebook page!
Click any photo to see larger version
View / tag / like / share these photos -- and 21 more! -- on Facebook
See More Event Photos
In addition to my photos, be sure to check out the great work from Tracy Jade Photography!  As of this writing, Amber and Nate's wedding isn't on her blog yet.  But their engagement photos are, and they're incredible!  Thanks again to Amber and Nate for choosing me as your wedding DJ and to the Golubs for being great hosts at Our Farm!  Hopefully it'll be less than four years before my next wedding there -- if you found my blog because you're getting married at Our Farm and in need of a DJ, check my availabilty calendar and let's talk!