You couldn't have asked for a better day to have a wedding in the charming Village of Cazenovia, situated alongside the lake of the same name. Although I've done several weddings at the historic Lincklaen House, Alexandra and Mark's had a few new twists -- keep reading for the details!
Alexandra and Mark's wedding was my fifth as a DJ at the Lincklaen House. Many venues do things the same way (or close to it) for every wedding, so it's interesting how each of my Lincklaen House weddings has been unique in some way, shape or form.
For starters, Alexandra and Mark had their ceremony on-site -- but not in the outdoor courtyard. Avoiding any chances with the weather, the Hunt Room was the plan from the start.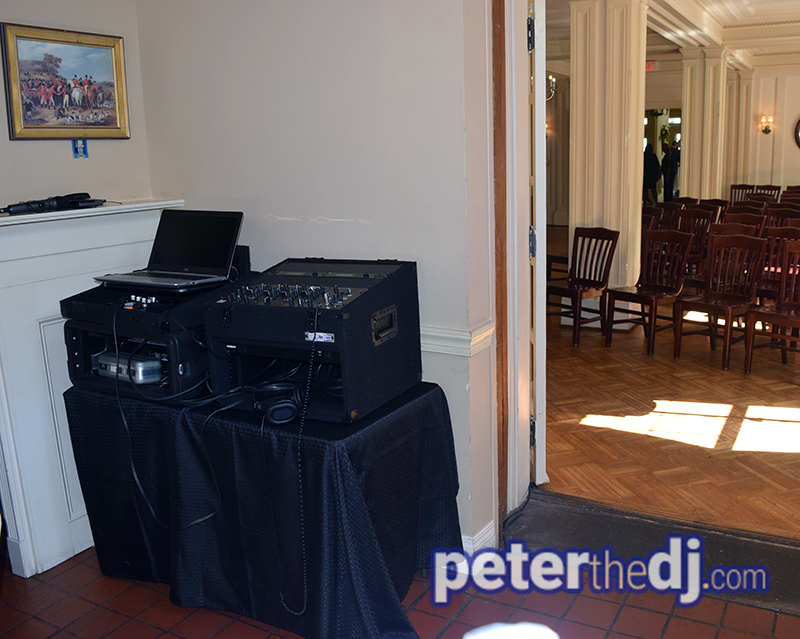 In order to provide sound in the Hunt Room (for the ceremony and dinner) as well as the front lobby area (for cocktail hour and dancing), I set-up two sound systems. This photo demonstrates how my "secondary" system fit perfectly against one of the walls directly behind the Hunt Room.
This is right behind the wall which served as the wedding ceremony's backdrop. This arrangement kept the equipment out of sight, save for a single speaker so guests could hear the ceremony, and later, the dinner music. Black gaffer tape discreetly secured one speaker cable which ran across the doorway, without marring the floor.
Although this location meant I couldn't see the ceremony, it wasn't a problem. I was able to peek through the door to see the coordinator's cue to begin the processional music and when to switch over to Alexandra's entrance song. From that point, I was able to listen to everything in my headphones without any issues.
Alexandra and Mark's Key Song Choices
Ceremony
Processional: Denis Turbide / Here Comes the Sun
Grand Entrance: Frank Ocean / Moon River
Recessional: Ella Mai / Boo'd Up
Reception
First Dance: Daniel Caesar / Best Part
Father / Bride Dance: Grateful Dead / If I Had the World to Give
Groom / Mother Dance: Mark Harris / Find Your Wings
Last Dance of the Night: Queen / Bohemian Rhapsody
More Unique Elements
Aside from their music selections ("Bohemian Rhapsody" for a closer was a first, but a very well-received singalong), there was one other unique element about Alexandra and Mark's wedding.
Every other time I've DJ'ed weddings at the Lincklaen House, the front desk served as the bar during the reception. This time around, the front desk remained the front desk, and drinks were served in the East Room (what I often refer to as "the red room") just off the front lobby.
For at least one previous wedding, this wouldn't have been an option since both the East and Hunt Rooms were filled with guest seating. But if your guest count is within range where you don't need the East Room for dinner, putting the bar in there was great because it opened up more of the lobby area for dancing. And that's a good thing, because this was another dancing crowd -- speaking of which, let's get to the photos!
Photo Album Highlights
As always, this is just a select handful of my photos -- I have even more photos on my Facebook page! Scroll down for a direct link to the album.
Click any photo to see larger version
Thanks again to Mark and Alexandra for finding me and choosing me as your wedding DJ! It was a pleasure helping you put together a momentous event and you had an awesome crowd to help you celebrate! Considering how many wedding DJs are out there and understanding the importance of a wedding day, I'm always grateful to be selected by each and every one of my couples.